Dear RSS Clients and Colleagues:
On Friday, June 26, 2020 Illinois Governor JB Pritzker announced the state has moved into the Phase IV of its recovery plan.
Please see the chart toward the bottom of the page to view specific details regarding details about Governor Pritzker's Phase III of phase IV of reopening Illinois.

While our firm is open for business, we operate with caution out of respect for the health of our clients as well as our staff. We are using masks within our office on a routine basis and will do our best to accomodate your health and safety while meeting your legal needs.
Please contact us to discuss the best way to meet with you. If an in-person meeting is desired or required, please be assured that our staff wears required personal protective equipment. We have PPE in our office and use it routinely.
Our firm is available and committed to assist you with your business, real estate, banking and finance, bankruptcy and creditor's rights, estate planning and administration and civil litigation matters. You will be able to speak to one of our staff members or attorneys promptly if you call our regular business phone, 847-367-9699, Monday through Friday, from 8 a.m. to 5 p.m.
Court Information
State of Illinois Nineteenth Judicial Circuit Update
All matters in the 19th Judicial Circuit, scheduled through May 28, 2020, shall be continued and rescheduled to a date after May 29, 2020. As per the order (click below this paragraph to download), notices will be generated by the Clerk of the Circuit Court, who will send notice of rescheduled dates upon receipt from the judge as approved by the presiding judge.RSS OFFICE LAKE COUNTY CIRCUIT COURT ADMINISTRATIVE ORDER 20-29 COVID-19 ENTERED 5-5-2020

Download

Estate Planning
Our firm remains able to prepare your estate plan during this time. Take the necessary steps now to finalize and implement your estate plan. Our staff remains available and will work with you through the entire process.
Please note that executing Wills and Trusts requires witnesses and a notary. All law firms in Illinois are looking for a solution so that our clients can execute these important documents at this critical time. We will attempt to find a workable solution for your unique needs.
We are taking every precaution to ensure the safety of our staff and clients which is of upmost importance to us. We will do our best to answer any of your questions and inquiries promptly and appreciate your patience while we navigate through the challenges of operating our office remotely. Please be safe and best of luck as each of you also work through your own challenges during this crisis.
From the attorneys and staff at Ralph, Schwab & Schiever Chtd.
Other Useful Information And Helpful Websites
On May 5, 2020, Governor Pritzker unveiled his Restore Illinois plan to reopen the state, with criteria to move into each phase of the plan. The plan establishes four health regions, each with the ability to independently move through the five-phased approach: Northeast Illinois; North-Central Illinois; Central Illinois; and Southern Illinois. Cook and Lake Counties just began Phase 3. No dates were given for future phases, which are represented by the illustration below.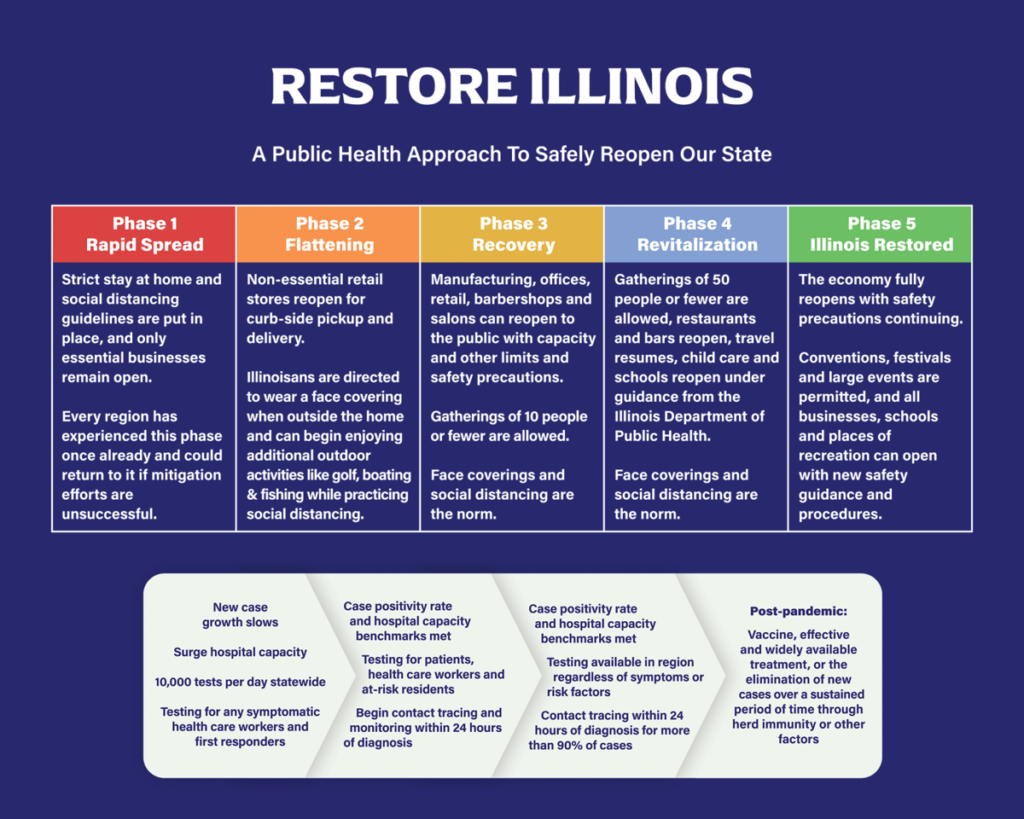 To obtain more detailed information about phases 3 and 4, please click the download button below.
Download
Tax filing information
The IRS and Treasury Department have extended the deadline of filing income tax with no penalties to July 15, 2020. According to IRS-2020-58, this deferment "applies to all tax payers, including individuals, trusts and estates, corporations and other non-corporate tax filers as well as those who pay self-employment. We are sharing this news as a courtesy. As to taxing entities other than the IRS and Treasury Department, each client or potential client should contact their tax and accounting professional for specific tax and accounting advice and services.
Useful Links
Below are useful links for our business clients and also for individuals, including Governor Pritzker's Stay At Home Executive Order, the Small Business Administrations Guidelines for Businesses amidst the COVID-19 crisis, and how the Americans with Disabilities Act recommends treating coronavirus. We will do our best to provide other useful links as they become available.
IL Department of Commerce and Economic Opportunity (Small Business Administration link)
What You Should Know About the ADA, the Rehabilitation Act, and COVID-19
https://www.eeoc.gov/eeoc/newsroom/wysk/wysk_ada_rehabilitaion_act_coronavirus.cfmTo download a copy of the Illinois Department of Public Health's Guidelines for Workplace Health and Safety as outlined in Governor Pritzker's Extended Stay at Home Order, click download.

Download